Finally! Robotics & Coding finally are far enough along to create amazing engineering lessons for students! This post is just a mish-mosh of visuals and ideas to help you think about using our Spheros with your students. These will create special moments for your students as well as give you a tool to pull students into content and develop skills without them even realizing they are doing so!
Obstacles Courses
Create them in advance or have students create obstacle courses. Students can manually control the sphero to go through the course or program them using code. Consider giving students criteria like they have to make a bridge or they have to make it a certain length of measurement, etc.
Nothing says last STEM rotation before summer like a @Sphero @SpheroEdu obstacle course #SmyrnaSTEM pic.twitter.com/bQTqUDW7yQ

— Katie Sandlin (@KSandlinITRT) May 13, 2016
Driving #sphero @rtlgimli thanks @jbadger @msmclauchlan for the playtime #learn2code pic.twitter.com/OTWWUxZ40B

— tbarrett (@mrstbarrett) May 5, 2016
This team braved the ramp and water hazard. Hit a few obstacles but an awesome success!@Sphero @SpheroEdu #5M2015 pic.twitter.com/YKi5d3akOG

— Graham Corkin (@GrahamCorkin) May 12, 2016
@GreeceCentral PB students program @Sphero to get through the maze challenge. Love the happy dance at the end👍 pic.twitter.com/jx1q4IMYVl

— David Blahowicz (@DBlahowicz_GCSD) May 6, 2016
#Sphero work on a Friday! pic.twitter.com/xETbsgp73G

— Steven Floyd (@stevenpfloyd) May 20, 2016
@jtatumso_ has her #sphero tracing a star! Way to go! #mchs pic.twitter.com/xehhpCZ36o

— Mr A (@maaugustyn) May 20, 2016
Chariot & Competition Ideas
Use spheros to control student-created vehicles. The vehicles can be designed to carry items or 'attack' other vehicles. Give a defined space for the battle zone or use a track to have them race.
Content Connections
Use spheros to be the entry point or attention grabber for content or skills.
4th graders @Wallburglions working together to learn about angles. @SpheroEdu Golf Tourney @AmyDaugherty1 @dcsnc pic.twitter.com/WywPdJhREj

— Marley Knapp (@emsknapp) May 18, 2016
#bb8 traveling through the desert region of CA! #4thgrade #sphero #coding @HMHuskies @gobhusd pic.twitter.com/lMFHEPPequ
— Stacy S (@stacysue18) May 10, 2016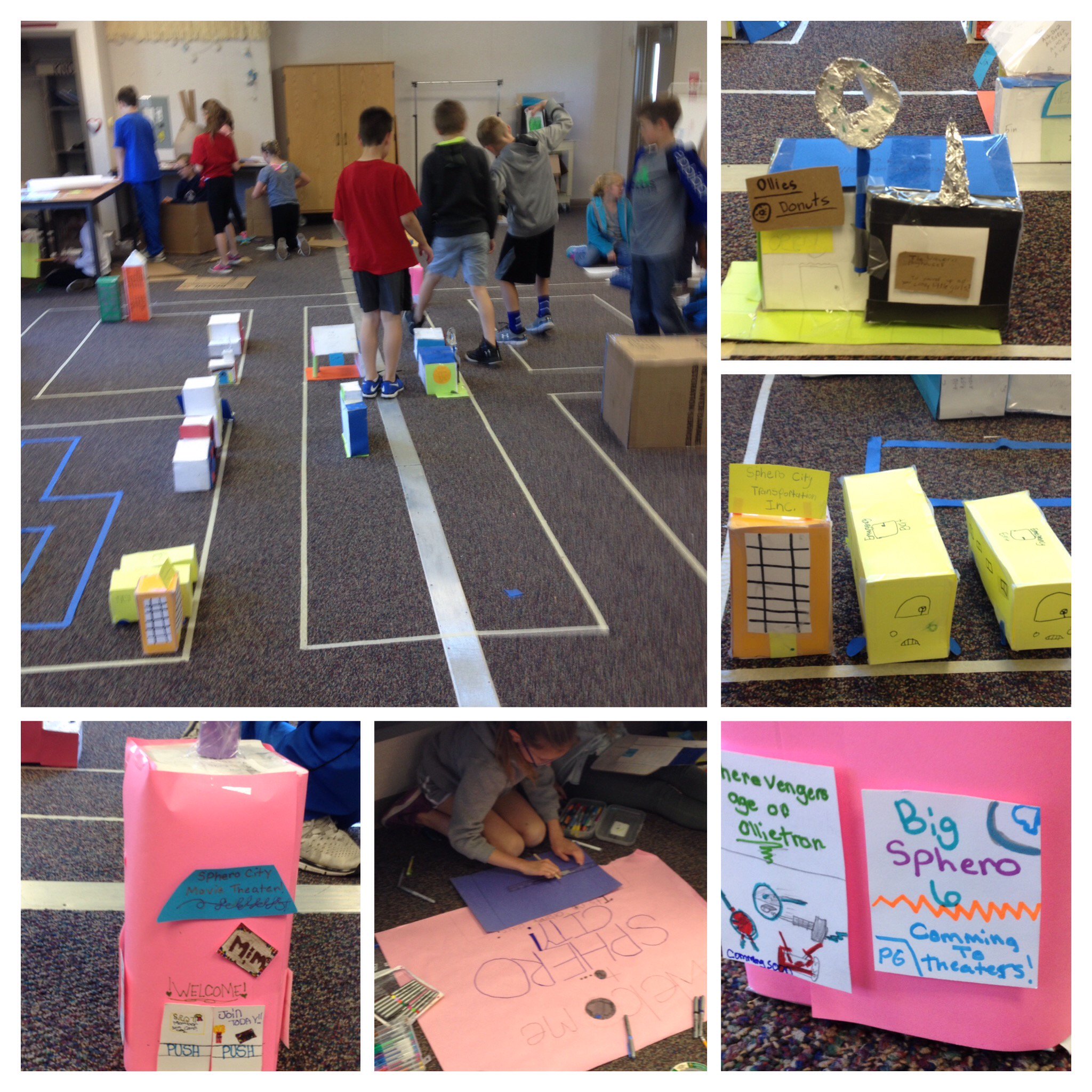 Use mats or place markers to have the spheros go them for answers. Write answers on the plates or the mats (numbers, letters, words, etc.).
Art Ideas
Spheros are waterproof and thus paintproof! Use paint to create amazing visuals!
Last day with @Sphero art @fccrickets #gocrickets pic.twitter.com/ij4MWmGM9k

— Trey King (@TreyKingFC) May 13, 2016
AND MORE…
Click here to download official PDF lessons from SPRK Lightning Lab! 
MacroLabs on Time/Speed/Distance, Geometry, Mean/Median/Mode, Percentages, Patterns/Colors
STEM activities of Chariot Challenge, Bridge Building, Hydro Hypothesis, and Maze Mayhem
@SpheroEDU on Twitter to see more ideas
Sphero Education Site: http://www.sphero.com/education
Sphero Lightning Lab: Click here for the Lightning Lab You have to set up a free account but you can add students or others for 'classes.' There are a ton of activities with tutorials already available here. See picture below.